Moon Neo 280D   DAC met MiND streaming mogelijkheid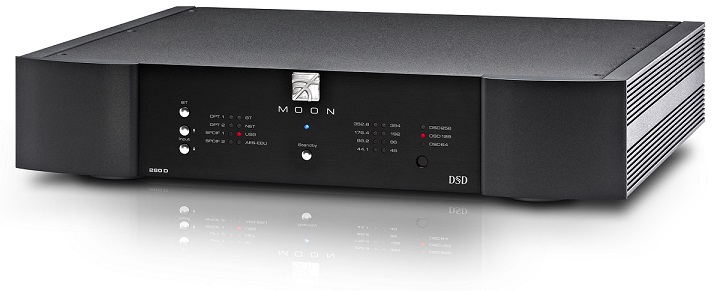 Two-tone uitvoering



De Moon Neo 280D DSD is een zeer hoogwaardige digitaal-analoog omzetter die veel technieken van zijn grote broer NEO 380 DSD heeft overgenomen en tegen een geringere prijs toch uitzonderlijk goed preseert.
De Neo 280D is ook leverbaar in MiND uitvoering, waarmee hij een volwaardige UPnP netwerkspeler is geworden met ondersteuning van Tidal en V-Tuner. Te bedienen via iOS of Android app.

Sound
The Neo 280D is a trickle down of the Neo 380D DSD, using a simpler power supply and a less elaborate analog output stage, so in terms of sonic refinement, you will notice the superiority of the Neo 380D DSD. Is the Neo 380D DSD worth the extra money? Absolutely. Is the Neo 280D a great value? It is an extraordinary value.
Significant Design Features
– Fully asynchronous DAC supports DSD up to DSD256 (USB only) and PCM from 44.1kHz to 384kHz (32-bit on USB only)
– Eight (8) digital inputs (AES/EBU x 1, S/PDIF x 2, TosLink x 2, USB x 1, Bluetooth and Ethernet or WiFi for MiND) allowing for a connection to virtually any digital source.
– Optional MiND (MOON intelligent Network Device) module (the 8th input) via WiFi or Ethernet input for multi-room streaming
– USB input with galvanic isolation which eleminates all ground current (i.e. no electrical connection) between the USB device (computer, music server, etc.) and the 280D, preserving the accuracy of the audio signal
– The entire analog stage is a fully balanced differential circuit for increased dynamic range and headroom,higher resolution, as well as improved signal-to-noise ratio
– Advanced analog signal path using an exceptional DC servo circuit and proprietary 18dB/octave analog filter -RS-232 port for (i) full unsolicited bidirectional feedback and (ii) firmware updates
– IR input for external control -SimLink™ controller port for 2-way communications with other compatible MOON components
– 4-Layer printed circuit boards with pure copper tracings for a much shorter signal path; This results in greater sonic accuracy and a dramatically improved signal-to-noise ratio
– Rigid chassis construction to minimize the effects of external vibrations
– Optimized selection of very high quality electronic components in a symmetrical circuit design Includes CRM-3 remote control.
Specifications
– Frequency response (full range): 2Hz – 100kHz +0/-3dB – THD @ 1kHz, 0dBFS (A-weighted): < 0.005%
– Intermodulation distortion: < 0.005% – Dynamic Range: > 120dB
– Signal-to-noise Ratio: > 120dB @ full output
– Channel Separation: > 110dB
– Intrinsic Jitter: 10 picosecond RMS
– Bit-depth range: 6 – 32 bits
– Sampling rate frequency range: 44.1 – 384kHz – DSD sample rates DSD64, DSD128 & DSD256
– Analog output impedance: 100Ω
– Shipping weight: 6.3 Kgs – Dimensions (width x height x depth): 42.9 x 8.9 x 33.3 cm.
Ons demomodel   Neo 280D MiND2 in zwart is leverbaar van 3190,- voor €2500,-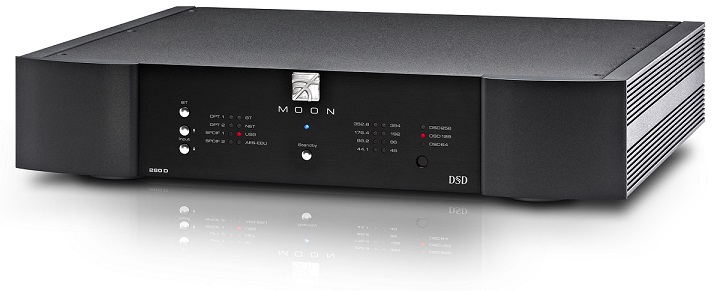 Neo280D DSD  MiND